Singapore is a financial and wealth management hub. It attracts wealthy individuals from all over the world to invest in Singapore property. These property investors come from Asian, Europe and America.
Singapore offers a range of family office services. These services include budgeting, insurance, charitable giving, wealth transfer, and tax services. They cater to the diverse needs of these entities.
The Economic Development Board (EDB) reported in 2021 that 700 family offices were established. This showcases Singapore's growing appeal as a hub for wealth management.
Thriving Startup Ecosystem: Excellent Investment Opportunities
Singapore's startup ecosystem is thriving, offering excellent investment opportunities in emerging industries such as Fintech, agritech, and cleantech. Additionally, there are over 300 private equity and venture capital managers available, along with more than 190 incubators and accelerators. These resources provide extensive support to businesses, mentoring and propelling them towards success.
Consequently, tech companies seeking to expand into the Southeast Asian market view Singapore as the go-to destination.
Furthermore, the government's Open Innovation Network and the Global Innovation Alliance are boosting the local startup community, helping these businesses expand into the global market. As a result, 15 companies, including Nium, Grab, Carro, and Ninja Van, have already achieved unicorn status.
Rising Singapore Property Prices
When considering to invest in Singapore properties, it is essential to look at the current market trends. According to the Urban Redevelopment Authority (URA), property prices in Singapore have proven to be resilient and goes higher in the long term.
In 2022, prices of landed properties rose by 9.6%, and non-landed properties rose by 8.1%. The non-landed properties in CCR, RCR, and OCR increased by 4.8%, 9.7%, and 9.3%, respectively.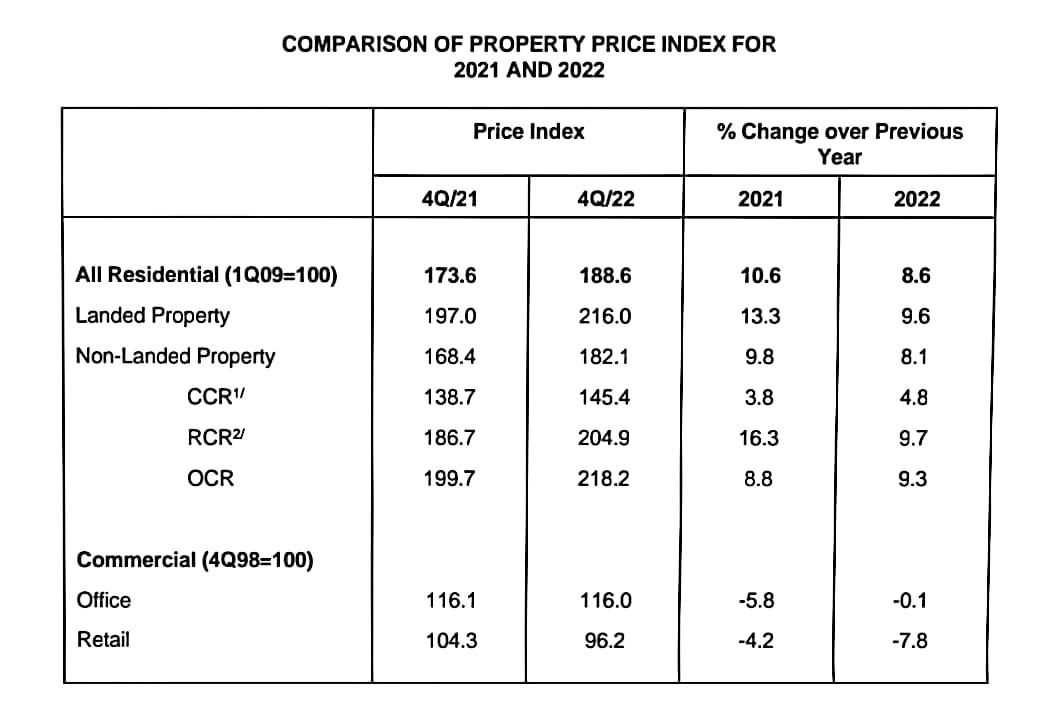 Source: URA's website
However, the 4th Quarter of 2022 saw a modest 0.7% rise in non-landed property prices in the Core Central Region (CCR).
This region is worth considering since the price increase was lower compared to the Outside Central Region (OCR) and the Rest of Central Region (RCR). By keeping up with market trends, investors can make informed decisions on where to invest in Singapore properties.
Growing Rental Market: Stable Rental Income for Investors and Landlords
Singapore real estate market has seen significant growth in the rental transactions of landed and non-landed residential properties. In 2022, there was an increase of 28.1% and 29.8%, respectively.
This trend indicates a growing demand for rental properties, creating potential opportunities for investors and landlords.
You can rent out your property to generate rental income. This rental income can help to offset your monthly mortgage, part of which is going towards the principal repayment.
During good times when the rental yield is attractive, some landlords achieve positive cash flow after paying off their mortgage and the condominium maintenance fee.
Property Supply Pipeline: Wider Selection and Better Deals for Buyers
Around 32,100 units are expected to be completed in 2023 and 2024, which is twice the amount completed in 2021 and 2022.
This meets the housing needs of the population and creates more competition among sellers.
Increased competition could lead to lower prices and better deals for buyers. As a result, buyers will have a wider selection of properties to choose from, making it an ideal time to invest in the Singaporean real estate market.
No Capital Gains Tax
The Inland Revenue Authority of Singapore (IRAS) is a statutory board under the Ministry of Finance of the Government of Singapore in charge of tax collection.
IRAS do not impose capital gain tax when your residential property appreciates in value and you sell it for a profit, even if it is a million dollar gain.
Foreigners Eligible for ABSD Remission under Free Trade Agreements (FTAs)
Under the respective Free Trade Agreements, Nationals or Permanent Residents of Iceland, Liechtenstein, Norway or Switzerland and United States will be accorded the same Stamp Duty treatment as Singapore Citizens.
Therefore, they do not need to pay a hefty 30 per cent Additional Buyer Stamp Duty (ABSD) when buying their first residential property in Singapore.
Strong Economy: Promising Outlook for Investors
Singapore's political stability, low corruption rates, and transparent public institutions have anchored its position as one of the world's strongest economies. Singapore remains a popular choice due to its ease of doing business, modernised infrastructure, and strategic location in Southeast Asia.
Singapore's Monetary Policy and the Strength of the SGD Currency
The monetary policy of Singapore focuses on the exchange rate, rather than the money supply or interest rate, and is managed by the Monetary Authority of Singapore (MAS). This approach allows the exchange rate to fluctuate within a specific band, with the MAS adjusting the supply of Singapore dollars to maintain the rate within that band.
This differs from many other central banks, which prioritise interest rates. Recent news highlights the strength of the Singapore dollar (SGD). According to an article in the Straits Times on February 2, 2023, the SGD has been gaining strength steadily. It appreciated by 0.2% to 1.3038 per U.S. dollar (USD), reaching its highest value since January 2018. This increase is due to expectations of easing inflation and a less aggressive monetary tightening policy.
The strong SGD currency is a reflection of Singapore's impressive economic performance. Singapore boasts a AAA sovereign credit rating, positive foreign currency reserves, and a strong current account surplus. In fact, its foreign exchange reserves stood at SGD 383.4 billion in January 2023, contributing to its reputation as a safe haven for investors.
Overall, Singapore's thriving economy, wealth management services, vibrant startup ecosystem, increasing property prices at a steady pace, growing rental market, and property supply pipeline make it an attractive real estate investment destination. Its strong political and economic stability, coupled with its strategic location, offers a promising outlook for investors looking to diversify their portfolios.
As Singapore continues to expand and develop, the opportunities for growth and investment are only expected to increase, making it a smart choice for long-term investment.