The LakeGarden Residences is a new 99-year leasehold condominium project by Wing Tai Holdings, located at 80 and 82 Yuan Ching Road in Jurong, Singapore. The development sits on a plot of 134,176 square feet and has a gross plot ratio of 2.1.
Wing Tai acquired the land with a successful bid of S$273.9 million at a collective sale tender in May 2020, at a 14% premium to the S$240 million reserve price. This equates to a land rate of S$1,250 to S$1,260 per square foot per plot ratio (ppr).
Preview for LakeGarden Residences will start from 22 July 2023, Saturday. The sales gallery is located opposite Chinese Garden MRT station, along Boon Lay Way.
You can WhatsApp or call ERA property agent, Andy Chia, (+6583239888) to book an exclusive VVIP preview appointment. He will share with you LakeGarden Residences floor plans and why you must buy this new launch project.
Enjoy a complimentary defects liability check by a professional when LakeGarden Residences TOP.
Get a complimentary BAZI and Feng Shui consultation to find out which unit at LakeGarden Residences suits you.
The condominium consists of two 19-storey towers, housing a total of 306 units. It offers a range of unit types, including one-bedroom units with or without a study, two-bedroom units, three-bedroom units, four-bedroom units, five-bedroom units, and four duplex penthouses ranging from 2,002 square feet to 2,260 square feet. The duplex penthouses have the added convenience of private lift access.
The units are designed with functional layouts and come with energy-efficient appliances. The kitchen is equipped with Bosch appliances, including a steam oven, washer, dryer, and wine chiller for 4-bedroom and 5-bedroom units, and a dishwasher for 5-bedroom units. The bathrooms are fitted with fittings from Hansgrohe.
What are the condo facilities at LakeGarden Residences?
The LakeGarden Residences is a full facilities condominium with 28 lifestyle facilities, including a tennis court, a 50-meter stardust pool with garden views, a jacuzzi, a gym, a clubhouse, and sky terraces and sky decks. The development also offers glamping pavilions with BBQ and electric grill facilities, allowing residents to immerse in nature right in their own backyard. There is also direct side-gate access to the 90-hectare Jurong Lake Gardens, offering recreational and water activities for residents.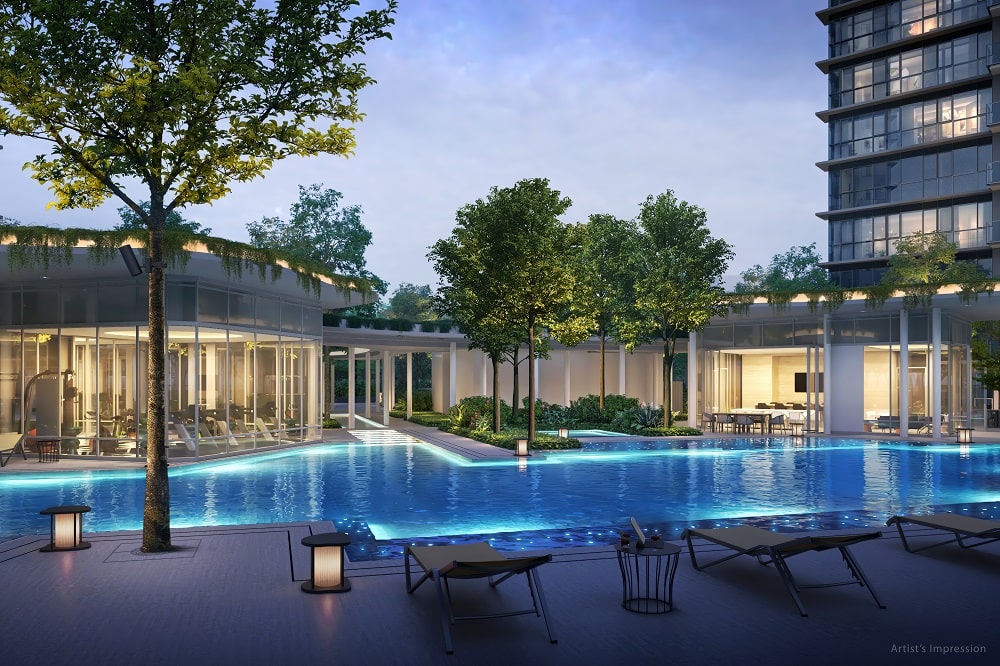 According to Wing Tai's head of marketing, Stacey Ow Yeong, nearly three-quarters of the units (227 units) are designed with two to three bedrooms, targeting local owner-occupier buyers. This includes Housing and Development Board suburban upgraders who may be interested in the units due to their proximity to their current residence or workplace.
What is the launch price for LakeGarden Residences?
The starting price for the units is just under S$2,000 per square foot (psf). While some might consider this high for a new condo in Jurong, Ow Yeong justified the pricing, stating that there is "little choice" due to the rising costs of land, construction, logistics, and financing. She compared the pricing to another area called Lentor, where units were going for S$2,000 psf as well.
The development aims to be environmentally conscious and sustainable. Approximately 30% of the condo's common areas will be powered by solar energy. The vision for The LakeGarden Residences is to create a contemporary home that blends harmoniously with the surrounding gardens.
Wing Tai emphasizes sustainable living in The LakeGarden Residences, which has been certified as a Building and Construction Authority Green Mark Platinum (Super Low Energy) development. The design allows for natural ventilation and features low-energy glass to reduce heat gain, leading to lower median temperatures in the units and reduced reliance on air-conditioning. Solar panels will harness renewable energy to power 30% of the common areas, and the development will provide EV and EV-ready carpark lots. The landscaping is designed to protect the existing ecosystem and enhance biodiversity.
The Jurong Lake District (JLD) is an upcoming business district, positioned as Singapore's largest business district outside the city center, set up under the Urban Redevelopment Authority's (URA) decentralization strategy. The LakeGarden Residences is well-connected to established amenities, educational institutions, and transportation nodes in this district.
What are the popular good schools near LakeGarden Residences?
For families with children, there are several educational institutions nearby, including Rulang Primary School, River Valley High School, Nanyang Technological University, and the Canadian International School.
When is the booking date for LakeGarden Residences?
The LakeGarden Residences is expected to start booking sales from August 5 and anticipates delivering its notice of vacant possession in August 2027.